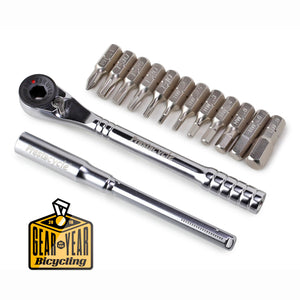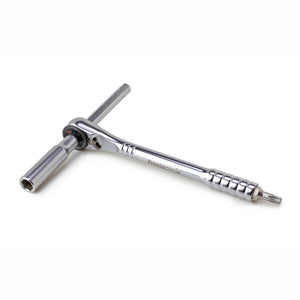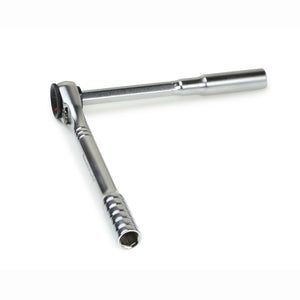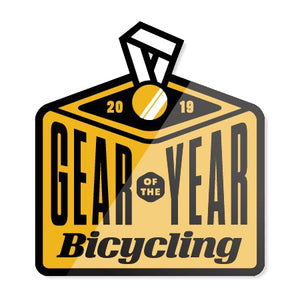 Prestacycle
Prestacycle T-Handle Ratchet Wallet – 3 way Ratchet and T-Handle Tool Kit
Carry-along pocket Ratchet with 1/4″ bits set
Extension Bar doubles as a T-Handle
Heavy-duty design withstands up to 60Nm of force
Uses standard 1/4" Hex bits of all sizes
Only 4.5 inches long & 88 grams with Extension!
Slim Wallet makes it the ultimate carry tool!
Features
Wallet case offers ultimate portability.
Our Wallet is much more than a tool case.  A thin, durable Velcro closure case with a pocket to fit ID, Credit Card or Cash fits nicely in a jersey pocket or use the slim belt loop.  Semi-rigid wallet surfaces ensure comfort.  Pockets securely hold bits and tools.
A complete pocket multi-tool!
Three-way pocket Ratchet with Extension and T-Handle function, all in a compact, lightweight design to carry on your bike! The Patented reversible thumb-wheel ratchet head is rated to up to 60Nm of total force, so this tool can even be used to install and remove Pedals.
A high quality, durable tool.
Prestacycle T-Handle 3 way Ratchet is compatible with all tool bit sets from Prestacycle and all standard ¼ bits. The patented Ratchet head firmly holds bits in place without a magnet. Releasing the bit is simple with a finger-press into the hole on the top. The ratchet offers an easy to use thumb wheel to speed screw installation and removal. The ratchet reverse knob is easily accessible right on top of the tool.
---