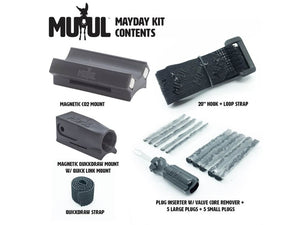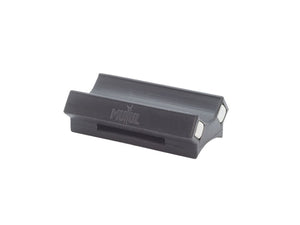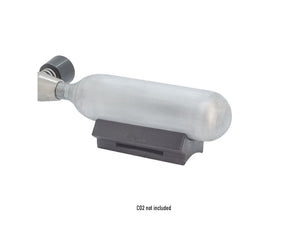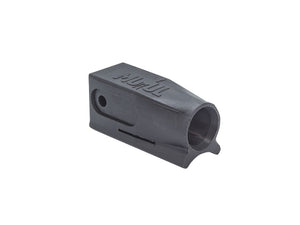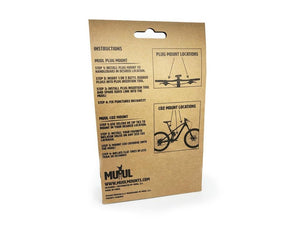 MUUL Mayday Kit
The MUUL Mayday Kit is a combination of our Quickdraw Plug Kit and C02 Mount Kit. The system uses a set of silicone mounts with integrated rare earth magnets designed to be the ultimate quick-draw solution to install a tubeless tire plug and inflate your tire with CO2 in less than 30 seconds! It's the perfect solution for anyone who hates digging through a hydration pack, fumbling with integrated storage containers, or wants to save every second possible when your race is on the line. 

The quickdraw can be mounted on your handlebar with a tire plug preinstalled in the plugger tool and is held in place by a strong, N52 neodymium magnet for maximum security. As an added bonus, the quickdraw mount can store a spare chain quick-link easy access.
The Rapid CO2 mount works with all steel 16g, 20g, or 25g cartridges and can be mounted anywhere on your frame or handlebars to deploy and remount your inflator with one hand. The strong, N52 neodymium magnets provide over 50lbs of retention force for a secure hold. With the included gripper strap, the CO2 holder can double as a tool wrap to carry a spare tube, tire lever, and multitool without need to unstrap everything to use the CO2! 
KIT INCLUDES:
Quickdraw Magnetic Plug Mount w/ Quick Link Holder
Rapid CO2 Magnetic Mount
Plugger Tool w/ Valve Core Remover
5 Large Plugs
5 Small Plugs
Mounting Straps

**DOES NOT INCLUDE CO2 CARTRIDGE, INFLATOR, OR CHAIN-LINK.
---