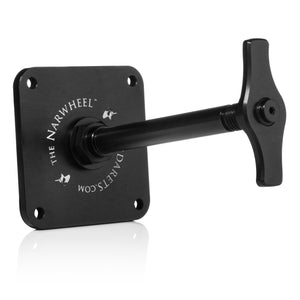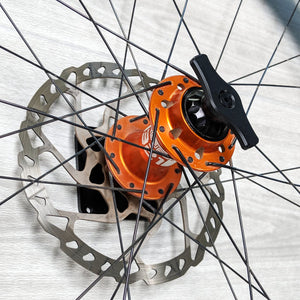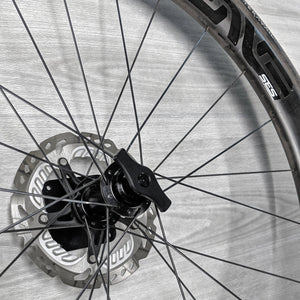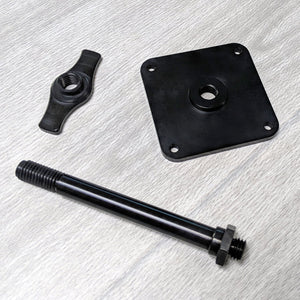 Narwheel Classic Thru Axle Wheel Holder
Lindarets' Narwheel Classic Thru-Axle Mount was made to securely hold thru axle front wheels in our workshop and while seeking out new trails in our campervan- but it works every bit as well in workshops, retail spaces, and demo trailers.
The Narwheel is CNC machined from 6061 aluminium and features a stepped stub axle and wingnut that will accommodate several sizes of front and/or rear hubs (see compatibility list)
The axle is mounted at a slight angle to allow some overlap with narrower tires yet keeps even 27.5 x 3.0in knobbies from contacting the mounting surface.  The three-inch, four-bolt square base plate can be mounted to walls or posts (you supply appropriate hardware) at any orientation that works for you.
Please use your best judgement when mounting!  We can't control or evaluate the surface you choose to mount these to or the suitability of the hardware you select, so take care when mounting in vehicles or where a falling wheel might injure someone.  The Narwheel is not designed for outdoor or exterior vehicle use.
COMPATIBILITY
F2:

 12 x 100mm (road standard) front hubs
 15 x 100mm (mountain standard) front hubs
 15 x 110mm (mountain Boost) front hubs

R1:

 12x142mm (XC/Road standard) rear hubs
 12x148mm (Boost standard) rear hubs
 15x150mm (fatbike) front hubs
 12x157mm (Super Boost Plus) rear hubs

Mounting holes will accept four #10 or M5 screws/bolts (not included). Mounting hardware and surface/anchor evaluation is the responsibility of the user.
For indoor use only.
INSTALLATION
Materials Required:

 Blue thread locker (Loctite 242 or equivalent)
 19mm open-end wrench or torque wrench with 19mm crow's foot
 Mounting hardware as appropriate
 Mounting anchors as appropriate

Apply a drop of thread locker to hex-end axle thread.
Hand-thread axle into the base plate
Use 19mm wrench to torque axle to base plate with a force of 8-10Nm.
Mount to a vertical surface using appropriate hardware and anchors

 Ceiling mounting is not recommended. Especially where the wheel or mount could fall and hurt someone.
 Take care to ensure that there is enough space to mount your largest anticipated wheel/tire combination to the mount.

Slide wheel hub over the axle and appropriate shoulder
Thread the nut onto the axle and hand-tighten to approximately 6-8 Nm (as tight as—but not tighter than—you'd install a thru-axle).
Re-check axle tightness every month or whenever play develops and re-tighten as needed.
---