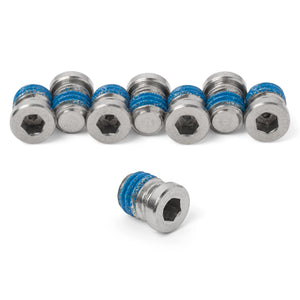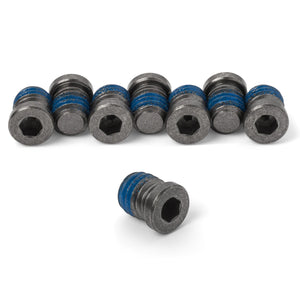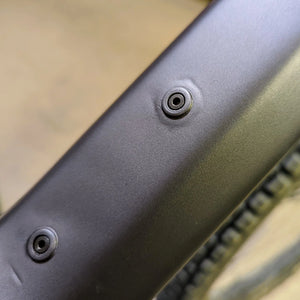 Terske No-Profile Recessed Bottle Cage Blanking & Sealing Screws
The ultimate lightweight, no-profile frame boss filling and sealing solution.
At 3/4g apiece and sitting flush with the frame surface, there's no better way to fill any unused bottle or cargo rivnuts in your next build.  To keep them from working themselves (or moisture) into or out of your frame, we added a 360-degree nylon thread lock. 
Simply thread the bolts to flush and they stay put.
Precision machined from stainless steel, our blanking screws won't corrode in normal use and are available with either a natural or off-black finish.  The nylon thread lock won't dry out like liquid thread locking compounds do so retains its locking ability for 3-5 installations.

Please note:
These screws are designed for riveted bosses, which are most common in carbon and aluminium frames

Not sure what you've got?  Shoot us a pic and we'll be happy to help!

Work with bosses that have 1.5-4mm between the surface and the first thread.

Boss installation is a manual process at most factories, don't be surprised if your frame's thread depth varies from boss to boss!

More than 4mm and the locking patch may not engage.  The screw won't fall through... but it might fall out.

Don't worry if your bosses' threads go right to the surface (usually welded-in bosses on steel or Ti frames):

 

we have different screws for those. 
The 360-degree patch will keep moisture and spray at bay- but don't expect it to keep your threads sealed against high water pressures or prolonged submersion.
8 recessed blanking screws in each pack.
---