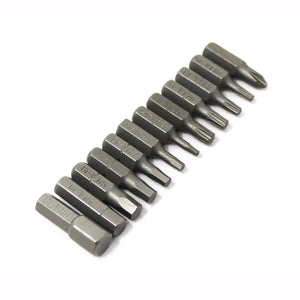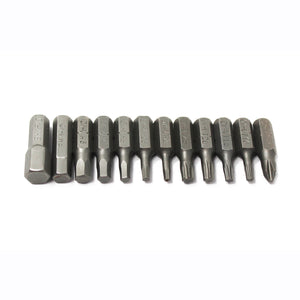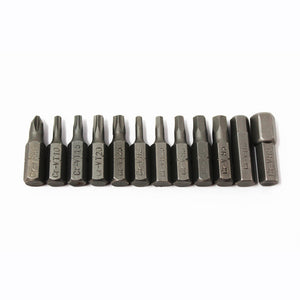 Prestacycle CR/V Bicycle Twelve (12) Bit Set
Features
High quality bits
Prestacycle high quality 1/4″ hex tool bits for use on Bicycles and much more. Our bits are compatible with all Prestacycle hex-based hand tools, and are industry-standard to fit all other tools that use 1/4″ hex bits.
Real World Features
Prestacycle Standard Bit sets are made of CRV Steel and include a unique feature allowing Hex bits to adapt to bolts of varying quality. Steel Hex bolts often have variations in actual bolt hole size, and potentially some variations in shape. Our CRV bits are tapered to fit these variations. These bits will insert until they reach full grip contact and will have no wobble. Depending on the bolt, these bits will not insert fully into the bottom, but instead will create a superior grip with no rounding.
JIS Compatible
Prestacycle bits sets do NOT contain U.S. Philips heads, which were specifically designed in 1932 to round out as an alternative to torque tools. These are modern ANSI standard (compatible with the discontinued JIS standard) and can be used on any bicycle cross head bolt.
Prestacycle hardened CR/V Bits offer the same quality and strength as most major Brand's best tools. Covers the most common HEX and TORX® sizes found on the latest components.
---