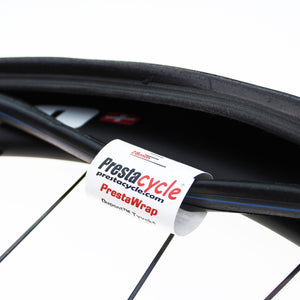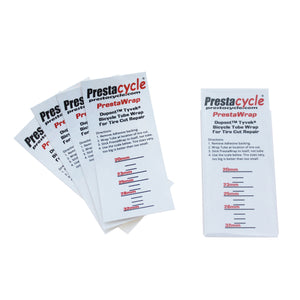 Prestacycle PrestaWrap Tire Boot
Stretch proof, Waterproof tire boot
Permanent Adhesive to form a structural cylinder
Cylinder provides stronger reinforcement under tire
Conveniently marked to set your tire size
Each boot weighs less than 1 gram, with no rolling issues.
Features
A Flat tire puts an immediate stop to your ride.  Your ability to fix a flat enables you to continue.  Tube and tubeless tires can all get flats, even with sealant inside.  You should always carry a spare tube and inflation method, and know your ability to change a tire.  Some flats cannot be fixed with a simple tube change.  If the flat includes a rip or hole in your tire, a tube will simply bubble out the hole and pop!  PrestaWrap is a tiny repair piece that can help with this, and is less than one ounce each to carry in your repair kit!
Strong, smart tire boot!
PrestaWrap is a smart tire boot for temporary use to continue riding when you have a cut in your tire.  The purpose of a tire boot is to prevent a bicycle tube from bubbling out a cut or hole in your tire.  Prestawrap does more than other methods!  Instead of just covering the hole, PrestaWrap forms a cylinder shape with permanent adhesive.  This creates a tire-sized structure to prevent even the smallest tube expansion from happening underneath the tire cut.  This, combined with a weight of less than one gram eliminates the bumps and uneven ride that often cause boot repairs to fail quickly.
Easy to use.
To apply the tire boot, simply pull out the tube from underneath the tire at the location of the cut in the tire.  Remove the backing to expose the adhesive, and wrap it around the tube with the printing facing outward.  You will be sticking the PrestaWrap to itself, NOT to the tube or tire.   Use the size of your tire as the guide for sticking the boot into a cylinder shape.  Example:  If your tire size is 700x28c, then stick the top edge of the boot at the line under 28mm.  (see product photos)  Re-install the tube and make sure the PrestaWrap is centred underneath the cut.  Since PrestaWrap only sticks to itself, it can be easily moved and positioned.
Four Boots per package.
PrestaWrap includes four (4) boots in every pack.  Carry a few inside each of your repair kits.  You can also stick multiple PrestaWraps to each other to form a larger tire boot.  However be aware that at some point, the hole in a tire can be too big for any repair.
A high-quality boot.
Our use of a special Dupont™ Tyvek® material is both stretch-proof and waterproof.  The peel-to-stick adhesive backing is a permanent adhesive that will provide strength and maintain shape.
---