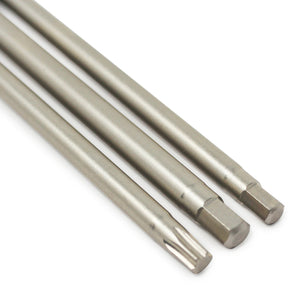 Prestacycle Professional 3 piece 100mm 1/4″ Hex Bits Set
(3) Precision hardened bits in a Patented Bits Carrier
100mm rounded shaft bits fit recessed bolts
Professional bits made with hardened S2 steel
Nickel-plated for a long lasting finish that prevents marring
Compatible with all Prestacycle hex-bit hand tools
Fit under Road Lever Hoods & Disc Brake Applications
(3) Precision hardened bits in a Patented Bits Carrier
100mm rounded shaft bits fit recessed bolts
Professional bits made with hardened S2 steel
Nickel-plated for a long lasting finish that prevents marring
Compatible with all Prestacycle hex-bit hand tools
Fit under Road Lever Hoods & Disc Brake Applications
Features
Highest quality bits
Prestacycle offers the highest possible quality 1/4″ hex tool bits for use on Bicycles and much more. Our bits are compatible with all Prestacycle hex-based hand tools, and are industry-standard to fit all other tools that use 1/4″ hex bits.
Engineered for long life
All Prestacycle Professional bits are made with hardened S2 steel, which is much stronger than most hand tools which are made of CRV Steel.  S2 steel also resists stretching, preventing rounded edges on the bits that could damage bolts. We apply nickel-plating to all Professional bits to prevent marring to Stainless Steel, Aluminum and Titanium screws and to provide a long-lasting finish. Specific hex bits have micro surfacing to reduce slippage when in use.
JIS Compatible
Prestacycle bits sets do NOT contain U.S. Philips heads, which were specifically designed in 1932 to round-out as an alternative to torque tools.  These are modern ANSI standard (compatible with the discontinued JIS standard) and can be used on any bicycle cross head bolt.
HEX:  4mm, 5mm
TORX®: T25
(3) Hardened S2 steel Nickel-plated Professional bits in a Patented Bits Carrier. 100mm Extended length bits fit bicycle specific applications like underneath Road Brake Hoods and through the wheel for Disc Brakes. Stronger and longer lasting than any other tools made for bicycles. Since worn heads can damage bolts, these bits protect your components.
---