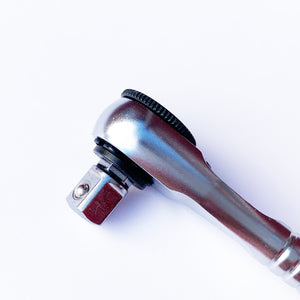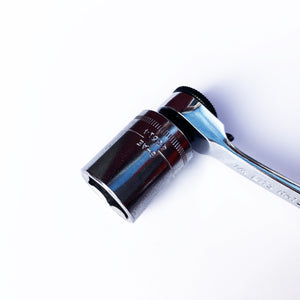 Prestacycle Professional Low-Profile 1/4″ Hex to 1/4″ square Socket Adapter
Low profile adapter takes advantage of our low clearance ratchet head design
Use hex bit tools with 1/4″ Square sockets
Precision hardened 1/4″ hex to 1/4″ square socket adapter
Professional adapter made with hardened S2 steel
Nickel-plated for a long lasting finish that prevents marring
Compatible with all Prestacycle hex-bit hand tools
Features
Highest quality bits
Prestacycle offers the highest possible quality 1/4″ hex tool bits for use on Bicycles and much more. Our bits are compatible with all Prestacycle hex-based hand tools, and are industry-standard to fit all other tools that use 1/4″ hex bits.
Engineered for long life
All Prestacycle Professional bits are made with hardened S2 steel, which is much stronger than most hand tools which are made of CRV Steel.  S2 steel also resists stretching, preventing rounded edges on the bits that could damage bolts. We apply nickel-plating to all Professional bits to prevent marring to Stainless Steel, Aluminum and Titanium screws and to provide a long-lasting finish. Specific hex bits have micro surfacing to reduce slippage when in use.
Precision hardened S2 steel Nickel-plated Professional bits. Stronger and longer lasting than any other tools made for bicycles. Since worn heads can damage bolts, these bits protect your components.
Bulk
Bulk packaged singles provide an inexpensive way to add bits to volume tool purchases.
---