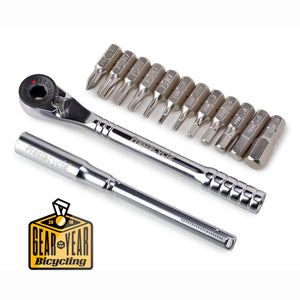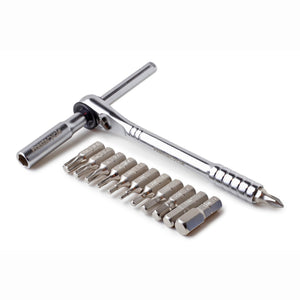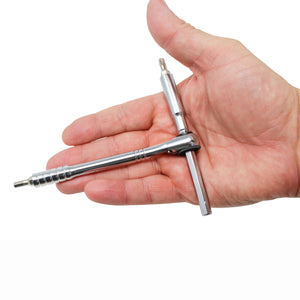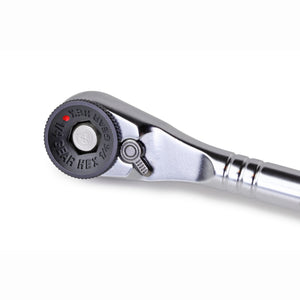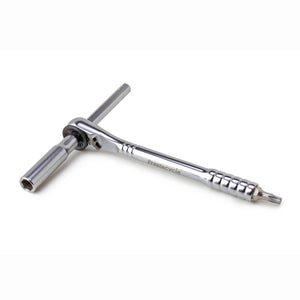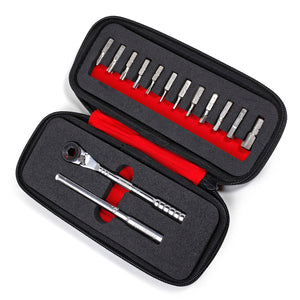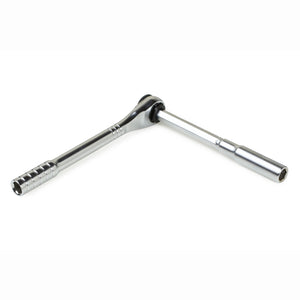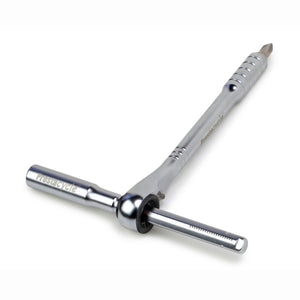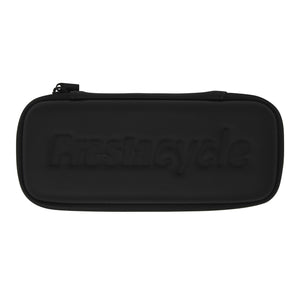 Prestacycle T-Handle Ratchet Deluxe – 3 way Ratchet and T-Handle Tool Kit
Carry-along pocket Ratchet with 1/4″ bits set
Extension Bar doubles as a T-Handle
Heavy-duty design withstands up to 60Nm of force
Uses standard 1/4" Hex bits of all sizes
Only 4.5 inches long & 88 grams with Extension!
EVA foam-lined zipper case with (12) 1/4″ bits
Features
Attractive, durable foam-lined zipper carry case.
Perfect for protecting your tool and keeping your bits within easy reach.  12 of the most common Bit sizes for bicycles are included inside.  Weather-resistant case materials and impact protection make this the perfect case to add to your toolset-to-go.
A complete pocket multi-tool!
Three-way pocket Ratchet with Extension and T-Handle function, all in a compact, lightweight design to carry on your bike! The Patented reversible thumb-wheel ratchet head is rated to up to 60Nm of total force, so this tool can even be used to install and remove Pedals.
A high quality, durable tool.
Prestacycle T-Handle 3 way Ratchet is compatible with all tool bit sets from Prestacycle and all standard ¼ bits. The patented Ratchet head firmly holds bits in place without a magnet. Releasing the bit is simple with a finger-press into the hole on the top. The ratchet offers an easy to use thumb wheel to speed screw installation and removal. The ratchet reverse knob is easily accessible right on top of the tool.
Highest quality bits
Prestacycle offers the highest possible quality 1/4″ hex tool bits for use on Bicycles and much more. Our bits are compatible with all Prestacycle hex-based hand tools, and are industry-standard to fit all other tools that use 1/4″ hex bits.
Engineered for long life
All Prestacycle Professional bits are made with hardened S2 steel, which is much stronger than most hand tools which are made of CRV Steel.  S2 steel also resists stretching, preventing rounded edges on the bits that could damage bolts. We apply nickel-plating to all Professional bits to prevent marring to Stainless Steel, Aluminum and Titanium screws and to provide a long-lasting finish. Specific hex bits have micro surfacing to reduce slippage when in use.
HEX: 2mm, 2.5mm, 3mm, 4mm, 5mm, 6mm, 8mm
TORX®: T10, T20, T25, T30
SCREWDRIVERS: PH1
(12) Precision hardened S2 steel Nickel-plated Professional bits in a Patented Bits Carrier. Stronger and longer lasting than any other tools made for bicycles. Since worn heads can damage bolts, these bits protect your components. Covers most major HEX sizes, Screwdriver sizes, and TORX® sizes found on the latest components.
---