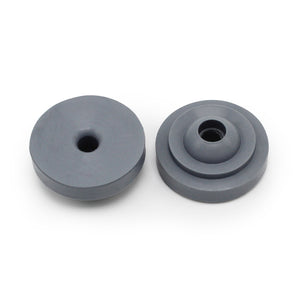 Prestaflator Big Presta Head Gasket
We offer three versions of the Presta Head Gasket that fit all current and past Prestaflator BIG Push/pull Presta heads.  (see photo for heads that fit).  These also fit all Silca pump heads that use the 24.1 or 24.2 Gasket.
Includes ONE (1) Gasket.  Photos showing two gaskets are intended to show the different appearance of the top and bottom of the gasket.
Urethane
Grey Color.  Our newest version of the Presta Head Gasket uses Urethane Elastomer material.  It's softer and does not shed material when installing and removing from sharp edges.  It is the best multi-purpose Gasket for our big heads.  It installs and removes easier than our rubber versions, and makes it easier to use for tubeless tire installation when the core is removed from the Presta valve.
Quick-Click™ Rubber
Black Color.  This Gasket is the strongest and longest-lasting for tire inflation.  Its name comes from the fact that it gives a "Click" feeling as you push it onto the Presta Valve.  The "Click" tells you the head is installed to the right spot.  No need to push any further.  You are ready to inflate.  Please note rubber versions require more force to install on Presta valves when the core is removed.  Installing these on Threaded Presta shafts with the core removed can also cause premature wear to the Gasket.
Tight Grip Rubber
Black Color with a small top hole.  This Gasket is identical to the original design found on Italian floor pumps prior to our new technology.  This Gasket is recommended for extremely high-pressure application such as Track Bikes.  Please Note:  DO NOT use this gasket with tubeless Presta valves or lightweight tubes.  The tight grip of this gasket could cause you to pull the valve right out of your rim!
---