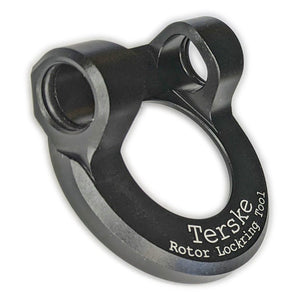 Terske Travel Disc Brake Rotor Lockring Tool
Every once in a while we find ourselves on the trail or away from home needing a tool that's really, really hard to fake. Say, for example, a 16-notch tool to tighten external Center Lock and AFS disc brake rotor lockrings.
And that's exactly what this is for.
It works with a 12mm thru-axle (a rear will give you the most leverage but a front will work too) and fixes a problem that doesn't come about often but can ruin your day if it does. Consider it part of your extended travel tool kit and toss it in your 'big day' bag, flight case, or the tool wrap that lives in your trunk.
This tool was designed with air travel in mind, when it's all too easy to leave rotors on wheels and spend your vacation listening to your rubbing brakes and generally kicking yourself for skipping the simple step of removing those rotors.
Specifications
Precision machined from

 

6061-T6 aluminium
Weighs just

 

17g
For use with 12mm thru-axles with a 3mm minimum wall thickness
Important Notes
50Nm max

 

torque.
How much is that? It's as if you were hanging 34lb of stuff from the handle, 100mm from the centre of the tool (roughly the middle of your hand at the end of a rear thru-axle). Most rotors specify a 40Nm torque (about 27lb of stuff). Any more and you're going to want a beefier handle.
Use one hand to hold the tool against the lockring

 

and the other to tighten or loosen using the handle.

Some lockrings, especially

 

front wheel lockrings, are awfully shallow. Take care to ensure full engagement and avoid stripping.

Use only with 12mm thru-axles

 

with a 3mm (1/8in) or thicker wall (6mm max thru hole).
Common sense is your friend: super-light parts don't like to be used as handles, but those with a 3mm wall (3-3.5mm is common) will give you a good margin of safety when the maximum torque value is observed.
This is a

 

hand

 

tool:

 

Don't use

 

a cheater bar, hammer, foot, rock or anything else that isn't your hand to apply force.
If you overdo it

 

and bend your axle,

 

don't put it back in your bike!

 

One, it could get stuck. Two, it could be weakened and fail somewhere down the road. You don't want that and we don't either.
Wear eye protection. Seriously. You only get two and they're awfully hard to fix.
Less-Important Notes
All trademarks are the property of their respective owners and do not imply endorsement by those owners.
---